About Minute-Man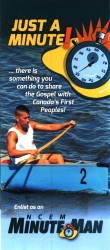 NCEM is committed to making disciples of Christ among Canada's First Peoples. Along with the difficulties, NCEM has seen God's blessing as Native people have given their hearts to the Lord, and churches have been established.
Much of this outreach would not have been possible without the tremendous encouragement and financial supply provided by NCEM's "Minute-Man" supporters.
Like other "faith" missions, NCEM is not structurally funded by a denomination, church conference, or an organization. Other than God's promises, there are no guarantees — God is the One who supplies!
And He uses His people. Helping to supply crucial ministry needs, NCEM Minute-Men have contributed funds to projects such as Bible school buildings, printing and video equipment (for the Tribal Trails television broadcast), aircraft, and traveling costs for evangelistic teams and Mission field leaders.
While some Minute-Men are able to give larger amounts, most of the contributions are from men, women, boys and girls who know that when many contribute together, much is accomplished!
Who is an NCEM "Minute-Man"?
NCEM Minute-Men are those who commit* themselves to help the Mission financially as special needs arise.
Projects details will come with each Minute-Man call.
There will be a maximum of three Minute-Man calls each year.
Contributions need only be $5 or more, as God enables.
*Minute-Men give as God directs and enables. There is no legal obligation.
Sign Up
If you would like to become an NCEM Minute-Man and receive our Calls (max. three per year), please Contact Us.
Check out our Latest Minute-Man Projects!
Download our most recent Minute-Man "Call" (pdf) … (October 2019).
Included is our Minute-Man News … where you can read how specific projects are helping to reach First Nations for Christ!
Want to read more reports from past Minute-Man News editions?

Designated Giving Policy
Spending of funds is confined to NCEM Board/Officers approved programs and projects. Each contribution designated towards a Board/Officers approved program or project will be used as designated with the understanding that when the need for such a program or project has been met, or the Board/Officers have determined it cannot be completed, the remaining contributions designated for such program or project will be used where needed most.