Welcome To Our Site

We're an interdenominational ministry seeking to fulfill the Great Commission of Jesus Christ among and in partnership with the Aboriginal Peoples of Canada.
Our Vision: by faith to establish strong indigenous multiplying churches.
We hope our web site helps give you a glimpse of who we are and what we do. Please don't hesitate to contact us.
Walter Selke
NCEM General Director
Donate
Help bring the Good News to Canada's First Peoples!
Be an Email Prayer Partner
Be part of God's work among First Peoples through prayer!
BRINGING HELP & HOPE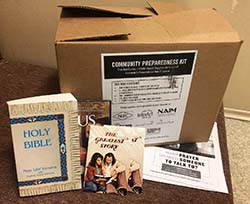 Obstacles & Opportunities during COVID-19.
How has COVID affected NCEM? Briefly — Months with no local fellowship gatherings, homes visits, care home, hospital or jail visits … Cancelled summer Bible camps … No air or road outreach trips … and more …
The reality, though, is that we have always faced restrictions and obstacles … distances, formidable territory, scattered populations, racial and linguistic barriers. So, as always, we share here what we can do …
Read this story and more in our latest Northern Lights magazine online.
also in this issue
"The big question for us as believers is, 'How do we respond in the midst of chaos and fear?' "

On Tribal Trails in September

Weekend of Sept. 6 — Being mentored by others, John Greyeyes has been learning how to represent Christ to the world. He shares about his life, including a powerful story of forgiveness.
Weekend of Sept. 13 — Recorded at Arnold & Nattie Flett's northern fly-in bush camp, Nattie demonstrates what life is like in their camp, and shares what she is learning from Proverbs 31 about how to be a godly woman.
Weekend of Sept. 20 — David Dunn believes that there are two areas of teaching that the Church needs to vigorously renew to hold up the truth in our ever-increasing humanistic society. When the Church fails in these two areas, false teaching – like evolution and anti-Semitism – will penetrate.
Weekend of Sept. 27 — Bill Jackson uses the story of David and Goliath to teach from the Bible about another battle involving another giant. Bill explains what this lesser known story can teach us about depending on God.
Watch online now, or check our television broadcast schedule.