George Wanderingspirit was born on the shores of Demma Lake, near the Northwest Territories-Alberta border around the 13th of August 1935. He was raised on the Barrenlands in various tents and cabins throughout his father's and his cousins' trap lines. He very early-on became a skilled bushman – among many other things, he developed the quiet skill to sneak and kill chickens and rabbits with just a throwing knife!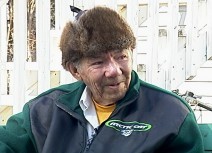 George's favourite childhood treasures were his orphaned twin wolf pups. One of his favourite memories was of often and effortlessly running several miles down the Slave River shore, across the neighbouring trapline, to trade his muskrats, minks, and weasels to the Norwegian homesteader Jonsson for their homemade butter. "I'll tell you, there's nothing you could ever add to that!" George would still say.
He eventually inherited "Old Man Joe's" trap line and used it the rest of his life, often along with his stepson, and with his sister next door. In addition to being an Alberta trapper, George was a Wood Buffalo National Park hunter. He developed a relaxed and pleasant pace to life, learning to enjoy every hour and day as they came. Every meal, whether rabbit, beaver, buffalo or bird, was something to enjoy and be audibly thankful for.
Known for honesty and reliability, George easily found various seasonal employments, whether as a carpenter in Fort Chipewyan, as a sawmiller in Ft. Fitzgerald, or as a tree faller in the Park. One of his favourite memories was of fighting fires one summer with his Ft. Chipewyan mates within the interestingly-to-him different bush of Ontario.
When Fort Smith was still the capital of Northwest Territories, many celebrities visited there. George enjoyed recounting especially when he had seen Queen Elizabeth, as well as heavyweight boxers like Canadian champion, George Chuvalo, and European champ Max Schmeling.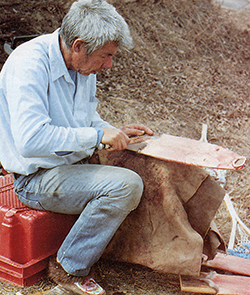 In January of 1988 George was married to the love of his life, Mary Nanooch, originally of Garden Creek, Wood Buffalo Park. Together they raised their cherished daughter. Their great-grandson and others valued their care and caring at various periods of their lives, also.
Earlier in his life George had been proud of his uncles and their shaman power. He eventually heard the truth of Christ's power and love. "Now I'm proud only of 'Tipiiyiihcikiyaan' (the Sovereign)," he would say.
George and Mary were the first believers baptized in the entire history of their district. In the cold waters of Lake Athabasca, on June 19, 1988, George and then Mary were baptized into the Body of Christ on the basis of their obvious faith in the cleansing blood of the crucified Creator alone. They were empowered never to return to the destructive forces which had caused themselves and others so much grief.
As often happens with outdoorsmen who come into true relationship with Creator, George developed the ability to become fascinated and often humoured by the endless idiosyncrasies among the plants and critters of Creation.
George had somehow learned his numbers quite well but, because he was reared on the harsh Barrenlands, hunting arctic wolves and foxes, wolverines, and reindeer, he didn't get to go to school. Yet just orally, after he first heard the Gospel in his fifties, he learned his Bible remarkably well!
He deeply loved listening to God's words, especially when read by the youth. His favourite verse, which he very recently quoted by memory a couple of times, is John 14.6: "Jesus omsii itiw; 'Niiya Miiskanaw, miina Taapwewin, miina Pimaatsowin; namawiiyak aysiinoo kaata kiih pe naatew Weyoohtaawiihk, piko Niiya ohci!' "
In George's last little speech to his grandchildren (for whom he never ceased praying), as he sat there in the sun with his muskrat hat and grin, he described nostalgically the many annual Spiritual Camps he had enjoyed with the other local believers, until bush-camping eventually had become too difficult for him and Mary.
On Tuesday, May 22, George & Mary were in their home, along with all their children and several of the grandchildren. It was right as the summer birds loudly began announcing the dawn that George Wanderingspirit was accepted into the Light-filled presence of his Master and Saviour.
George was buried in the Fort Chipewyan Cemetery on May 26, surrounded on three sides by the graves of his brother, sister, and the one whose visualized Bible teaching had brought him deep delight, my Annette. I was privileged to serve one last time my Brother who had years before begun mentoring me in the cultural ways of bush-life.
At the grave-side I read 2 Timothy 4:6-8: "The time of my departure has come … I have finished the course; I have kept the faith! In the future there is laid up for me the crown of Righteousness which our Lord the Righteous Judge will award to me on that Day – and not only to me, but also to all who are looking forward to His Reappearing!"