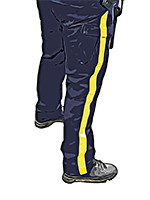 Over my years of field work I have become somewhat familiar with the assistance of angels in assuaging crises – such as boat propellers confronting miles of unknown rapids, or airplanes requiring a sudden lift up and over treetops or aerial wires. This past spring I noticed that angels can also show up on land!
In fact, I discovered that an angel may even sport a yellow stripe down the outside of each leg, with a pair of great black boots laced up at the lower ends.
I have long thought that angels tend to be large and strong. This one certainly was. His spread-out feet appeared to span half the width of the ice-road on which he was providing us aid.
My dad and I had been en route to my station of Fort Chipewyan, in the northeast corner of Alberta. It's been noted as a place where "nothing that's important ever happens easily." We were on the winter ice-road, pulling a trailer too-heavily loaded with construction materials for the meetinghouse addition project.
It was a 1.5-day trip, and we were on schedule to arrive in Chipewyan just before Bible study when – halfway around our serpentine trail's sharpest bend – the wheels fell off! There were now several feet of snow lying in between one of our wheels and its axle of origin.
I don't think there's ever been a Mountie movie made that shows the calibre and capability we observed in Sergeant Danny, who even missed picking up his wife at our airport in order to come out to the bush to help us before dark! Then, during a long evening of ingenuity, he managed – with an assortment of chains, boomers, ropes, axes, etc. – to eventually winch us aboard the ramp-less trailer, then tow us with his RCMP three-quarter ton pickup … and he did all this on his personal time, though tired and hungry following an already full day of duty.
Most of the times that I've seen him since, he has repeated that we had apparently been the benefactors of supernatural assistance. He says we simply should not have been able to lift so much that day in the snow!
A STRETCH OF FAITH
It is a stretch of faith in any location to attempt a building project without funds to begin with. It is even more-so the case when building in an isolated area. The Apostle Paul explained it thus: "For now we (church planters) live, if you (supporters) stand fast in the Lord"!
Our Lord just carried on from where "Sergeant Angel" left off, working things out for His greater glory. My sister, and then a physician from Fort McMurray who hardly knows us, supplied all the food and air-freight for the construction, which commenced late in May.
A local Metis friend (who has yet to set foot in our building) donated use of his back-hoe and his track-hoe, too, when the ground-frost proved to be rock solid.
As I write, this same man is sailing his freighter upriver, having offered to bring in our roofing metal for free. He says he's doing it because we Christians are "good for the community." He even told the supplier at McMurray that we are important to Ft. Chipewyan, and that they should drop their sales charges, too! The county donated and delivered gravel for much the same stated reasons.
While I cannot in this space mention every different contribution, I must recognize my father for his sacrificial gifts of time, equipment, and costs. He and Mum taught us children in exemplary fashion about the Sovereignty of God from before I can remember, and they still do! Now in his mid-80's, Dad continues to carry out, often alone on ice-roads, more demanding ministry trips than most pastors and many missionaries.
The home church of my Annette (who passed away last year) paid for our development permits, some materials, and airfare for several of their members to fly from Oregon to help with construction.
Our Lord provided us all with extra grace and strength, as neither of the main carpenters was enjoying full health at the time. I had to function while recovering from a partially dislocated shoulder.
CHEERED BY OUR OPTIMISM
Our construction project happened following the drowning of four local men several weeks prior. (In fact, it had been while dragging the waters for the bodies that I injured my shoulder.) Local people say that this fatal collision with an iceberg was one of the two worst events to have ever taken place around here. Some are angry at "weed" in general, and at the police in particular for not catching much more of this poison out at the airport.
Two of the bodies remained unfound for excruciating months, and some professed anger toward God. However, as we carried on with the meetinghouse addition – even while everything else around was still feeling grey and grim – many of our neighbours actually appeared somewhat cheered to be seeing in our optimism something positive and worthy of support!
Through curiosity in what we and our volunteers were doing, one former Band Office leader has already come out a couple of times for worship, for the first time in her life! And one of the searchers of last spring is also beginning for the first time-ever to read God's Word, and seek out His people.