Fred & Charlotte Evans … saved at a young age & serving God today
Fred & Charlotte Evans are Key-Way-Tin Bible Institute grads of 1978. They are just two of the many reasons why we believe KBI is a worthy ministry.
Recently the Evans' shared on our Tribal Trails TV program how the Lord initially touched their lives.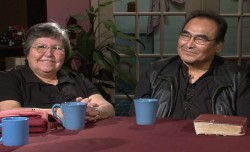 Fred: I grew up in a little place called Thicket Portage, in northern Manitoba. When I was a little boy I used to go out to the trapline with my uncle and aunt. I remember bringing with me the Gideons New Testament I'd been given in school. It was all I had to read while out on the trapline.
I read verses in there like John 3:16 and others where the Lord spoke about salvation, but I didn't understand them.
As a young boy of about 10 or 11 I would go to church, and the minister would get me to read Scripture for him. I would stand on the little box he had for me and read, but still I didn't know anything about salvation.
Sometimes I would sit at the lake and look across and into the sky. I wondered about this God that the Bible was talking about.
Then I began going to "young peoples," led by local (NCEM) missionaries, the VanNortwicks. Most of the time we would just fool around, as young boys do, but in spite of that we did learn some things – like how to be saved, and how the Lord loved us.
About the time I turned 16 I had a school teacher who would read to us every morning from the Bible. Those were the days when Bible reading was allowed in school. By the end of the year the Lord opened my eyes to see that I could be saved. I asked this teacher how I could go about it, and he led me to the Lord.