Tony Ens, one of our Yukon missionaries, tells about picking up a hitchhiker on the road from Pelly Crossing down to Whitehorse. On the drive they had a good talk which included spiritual matters. Later that day, when Tony attended a prayer gathering in the city, he requested prayer for this fellow and his need for Christ.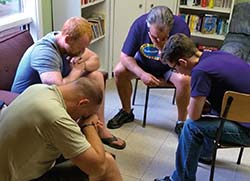 Sometime later Tony was chatting with someone in Whitehorse who told of a young man coming into their church one evening during their Bible study. The fellow couldn't really explain why he was there – it almost seemed that he had been drawn in, and the group ministered to him. Tony soon realized that it was the same fellow and the very time they'd prayed!
Perhaps you are expecting an article here about praying for missionaries. We do covet your prayers – which is why we include all our missionary members and their requests in this our annual Prayer Map/Directory issue. This article is more about prayer in our missionaries' lives and ministries.
That prayer is part of our lives should be no surprise. After all, it's a spiritual work we're in – we strive to see people gain a relationship with our Savior.
Our missionaries are quick to tell of prayer's importance. Helen Pope mentions her late husband: "Joe was a man of prayer from when I first met him. All his life he would get up early to pray, and into retirement, as long as he had strength to get up. He had a burden for many and prayed for many people, especially family, and the Native people.
"Prayer was part of our married life," Helen continues. "Many times prayer was all we could do, and often prayer is still all I can do. When the Lord lays a burden on my heart to pray for someone, it's important that I bring that request before the Lord. Then comes the waiting to see the answer."
CHANGING PRAYERS
Carroll & Cathy Hill are also long-time missionaries with many experiences of prayer changing things. They tell of being on the way to a Reserve to visit homes, but then Carroll would get a definite sense that God wanted him to go in a different direction. They would stop and pray about it, and somehow the Lord would make it clear about another place they should go. Often when they arrived, someone would tell the Hills that God must have sent them, as they were desperate for spiritual help.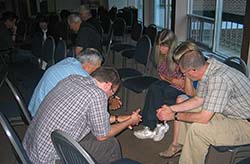 Albert Heal who serves as a Mission pilot has also seen the Lord's hand through prayer. "Prayer is a vital part of our ministry," he says. "I make it a habit of praying for safety in trips. Also, sometimes because of weather it becomes 'God's schedule,' not ours, and He leads us to minister to someone we hadn't planned on."
Last spring, for example, when bad weather was encountered on a trip with Native Evangelical Fellowship leaders, Albert and the team were diverted to Kasabonika, an Ontario community that Albert didn't know existed. They had some very profitable meetings there, and were welcomed by the daughter of one of our deceased First Nations workers.
Gilbert & Laura Bekkatla are also involved with ministry trips by air. "Time and time again we have seen God directing after we prayed about good flying weather," say the Bekkatlas. "God opens up a window in the stormy weather in His perfect time, and often it is when we have scheduled to travel."
RESTORING PRAYERS
Laura is one of our missionaries who takes phone calls from our Tribal Trails TV viewers. Often it involves praying with believers who call in requesting prayer. "One brother in Christ said that God answered his prayers when he prayed with the Tribal Trails staff," says Laura, "but he also acknowledged that God answers in His time and in His will, and that we trust and obey, not on how God answers, but because we love God and want to bring glory to Him."
Bernadette James, one of our newer missionaries who serves at Tribal Trails, tells how prayer is a big part of their local church ministry as her husband, Kirby, pastors in Prince Albert.
"As part of our Sunday service each week, prayer requests are taken. Through prayer we have seen relationships restored, people begin dealing with their addictions, and people are seeking true faith in Christ over traditional religion."
CAREFUL PRAYERS
Something that might surprise someone new to ministry in northern Canada is the number of local people (sometimes the most unlikeliest ones) who will ask the missionary to pray for them. We have heard some very interesting requests over the years – like prayer requests to win the lottery, or at least to win at bingo!
One missionary remembers a man asking him to pray for his wife who was "very sick." Thinking back, there might have been some people in the room trying hard not to smile during the passionate prayer, as the missionary learned later that the woman was just suffering from a hangover!
Sometimes it's impossible to comply with the prayer request. One missionary tells of being asked by a good friend to pray that her son wouldn't go to jail. He had been part of a group who seriously injured a fellow in a fight. "I did pray," explains our missionary, "carefully asking that the truth would be revealed and that God's will would be done."
Another missionary tells of someone new at their gathering who had just lost a loved one. The lady wanted prayer for her deceased relative.
"We had to explain that the Bible does not teach us to pray for deceased loved ones," says our missionary, "but we prayed for her in the face of this grief. Thankfully, she was not offended, but kept coming back to our meetings. On another occasion, this same person requested prayer for her beloved pet who had died. Again, we could not do as she requested, but prayed for her in her loss. We're happy that this woman now takes the Bible as her authority."
EXPECTING PRAYERS
Dennis & Amanda Anderson, who serve at The Pas, Manitoba, explain that people don't just want them to pray – they expect them to pray.
"In the Cree language," they say, "the word for preacher is 'one who prays,' so that is his job description! We get many phone calls and texts asking for prayer. And so we pray. We simply stop what we are doing at the moment, and take time to pray. Often it means praying with the caller right then on the phone; other times we spend time in prayer after the call."
Albert Heal shares these insights: "First Peoples are very much in touch with the spirit world and a lot of traditional religion is about praying to the spirits for good luck, safety, health, successful hunting, etc. So with that worldview, when priests and missionaries came along, they were asked to pray to their God for the same things.
"This happens in our own ministry," says Albert, "and I will still pray for people when they ask, but I use it as a teaching time. I remind them that only God answers prayer, and that we need to live for Him only. I also tell them that God doesn't promise to answer prayers of those who do not belong to Him."
Other missionaries tell of being asked to pray for someone's protection because a curse had been placed on them. A recent Tribal Trails TV caller asked us to pray for her husband who was with another woman because she had put a "love spell" on him.
PRIVILEGED PRAYERS
Helen Pope says that, over the years, the requests for prayer from local people have been many and varied … prayer for safety in travel, for victory over drinking, prayer that the evil spirits will leave them, prayer that God would save them, prayer for courage to witness, prayer for wisdom, prayer for health, prayer for comfort in time of sorrow and many, many other things. It has always been a privilege to pray for them, she says.
Carl Sonnichsen ministers to inmates and says he's noticed that those incarcerated surprisingly mostly request prayer for their families, not for themselves. "And we have never been asked not to pray," Carl notes. "Though we've dealt with some rather hard hearts, our offer to pray has always been received well."
A number of our missionaries also tell of unexpected opportunities to pray at public gatherings. It is an honor to do it, they say, and the folks gathered always show much respect.
POWERFUL PRAYERS
"For our struggle is not against flesh and blood," reads Ephesians 6. "Pray in the Spirit on all occasions with all kinds of prayers and requests."
Our missionaries well know that it's a spiritual war we're in, and we rely on prayer in the battles. Carroll Hill tells of driving to Reserves where he felt a real oppression. He stopped his vehicle on the side of the road to pray against the forces of evil. "God always lifted the oppression," he says, "and our visits were especially good."
First Nations are generally thought of as more aware of the spirit world. Bernadette James, one of our First Nations workers, shares these insights:
"Some First Nations people might treat prayer just as a ritual, just like many non-Native people do," she says. "I would say, though, that First Nations are sensitive to the spirit world. For example, we have people come to us for prayer because they believe there are spirits/demons in their home.
"When it's believers asking for prayer, Kirby and I will pray, but we will remind them that God is in them, too, and they have the same power to resist the enemy in Jesus' name. We want them to be empowered in their Christian walk."
MORE PRAYERS
"Our self-motivated tendency is to focus more on action in the heat of ministry and then pray later," say Carl & Laura Sonnichsen, "but we are constantly being impressed with the need to pray for those we minister to."
"I feel that I should be praying more. I don't think you can pray too much," adds Albert Heal. "On the other hand, there is the 'doing' and God told us to 'go and make disciples' and 'prepare your minds for action.' Prayer and action definitely need to work together."
It's not an either/or matter, Mark & Ruth Anna Dana agree. "We entrust a ministry outreach to the Lord, seeking His will as we start out. Often we find that God has greater blessings for us as we are going and doing – because we prayed to be open to His plan."
"There are many times we have to acknowledge that we are so very dependent on God," concludes Amanda Anderson. "Without Him, we are nothing. When a hopeless situation turns around, we know it is God who did it."
WORSHIPFUL PRAYERS
It's very important that prayer isn't thought of as just asking God for things – it's much more than that, says Grant Fawcett. "I think what we so often forget is that prayer is an act of worship. Even when we are coming to the Lord in prayers of supplication or intercession, we are doing so for the glory of God."
Associate missionary Rose Buck reminds us that, missionary or not, our own relationship with God is dependent on prayer. "When I struggle, the first thing I need to do is call to God," she says, "not talk to others in hope for an answer. I know He hears the concerns of my heart, and I have met Him through prayer."
"It's not about changing God's mind, or getting my will to be done," adds Andrew Siebert, "but about communicating with the God of the universe, seeking His will, and having relationship with Him as I go about my daily life and ministry. He wants to hear my heart!"