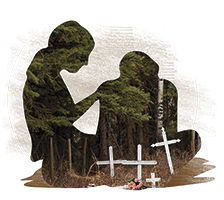 THIS PAST SUMMER one of our Bible camp cabin leaders learned that every boy in his cabin, except one, had lost his father in recent months.
Recently one of our missionaries visited a northern village where there had been two suicides, a week apart.
One of our workers counted 13 funerals in one month on a Reserve of a couple thousand.
In one small northern community (pop. about 125) there were six deaths within a few months.
One missionary tells of a one-year period when, in their small First Nations fellowship, four mothers lost a child.
Of all these deaths, some were the result of illness and old age, but many were unnatural – drownings, freezing, fires, vehicle accidents, suicides, murders.
Many of these who passed away were closely related to folks who our missionaries have come to know and love. One of our workers remembers very clearly the morning police called looking for the young First Nations man who had lived with their family for some time. After years of searching, the body of his sister had been found.
Another missionary tells of First Nations friends she sees regularly: one had just lost a brother to cancer, another's seven year-old grandniece accidentally strangled, another's daughter attempted suicide, another friend's nephew's body was found mutilated in a farmer's field … all this within a 10-day span! The same missionary had just visited a family who had lost their dad to an unnatural death. The children asked if she would take care of them if their mom also died.
Why mention all these? A couple decades ago Arthur Holmes (Ojibway) wrote The Grieving Indian. In it he estimated 20% of non-Aboriginals die unexpected deaths while 80% of Aboriginals do so. If this is even remotely accurate, it means our missionaries are serving surrounded by grieving people.