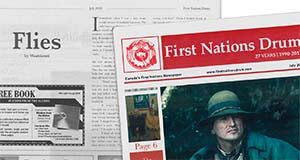 "I READ THE 'FLIES' STORY … in the July 2018 "FND" newspaper and was moved by the truth of its meaning." The hand written letter came from a single father, telling of his spiritual quest, and mentioning his four "beautiful children whom I very much miss." The return address was an Alberta correctional facility.
For several years our NCEM Publications Department has been placing a paid ad each month in FND, an independent secular paper. Each ad offers a free book, CD or video, and the publishers have welcomed us to include an article (at no extra charge). FND subscribers are finding Gospel stories where they may not have expected it!
The "Flies" article was adapted from the book Wisdom from the Elders which we distribute through our NCEM Bookstore (published by Indian Life Ministries, written by NAIM). This particular article told the humorous story of the author finding dead flies in the raisin bannock his sister had baked especially for him. They have since reconciled (if you are wondering), and the story illustrates how good things in life can be completely spoiled by seemingly small sins.
"There's been so much time of my life wasted behind walls away from loved ones and life itself," the FN Drum reader wrote. "I've had the time to reflect on myself and the chaos I have created."
One of our missionaries has followed up with a personal letter, and offered further spiritual help.
A NOT-SO-NEW WAY
It's good to have new and innovative ways to spread the Gospel among Canada's First Peoples. The next few pages of this magazine, however, have more to do with an avenue of ministry that's been around for many years. We're finding that the printed page is still an effective means of evangelism, discipling, and teaching … and is worthy of prayer support.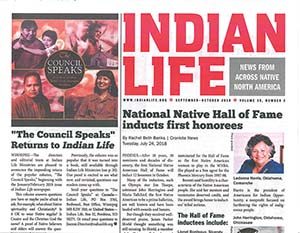 One of the ways our missionaries are doing evangelism is through the Indian Life newspaper. In the city of Prince Albert, for example, six times a year missionaries Jan Sassmannshausen and Denise Hodgman personally take multiple copies of Indian Life to hospital waiting rooms, hotel lobbies, First Nations government office waiting rooms, the Indian-Metis Friendship Centre, colleges, and other places.
"Often I've noticed that, on my way back through the hospital main waiting room, people are already reading it," says Denise. There are news stories of interest to First Nations readers, and the Gospel is communicated throughout the 20-page paper with testimonies and devotional articles by First Nations authors.
Denise chats with the staff she has come to know at these places over the years. She inserts into each Indian Life copy an invitation to a local Native Fellowship. Readers have attended in response to the flyer.
After operating on its own, Indian Life is now under the umbrella of Native Evangelical Fellowship (NEFC), based in Winnipeg, MB. There are financial challenges for this ministry, as it relies on bulk subscriptions. Unfortunately, most prison chaplains, outreach centre directors and missionaries have limited finances for this, so Indian Life carries on sustained by donations. It's an outreach that our missionaries hope can continue.
A UNIQUE READERSHIP
Along with Gospel tracts, magazines and books written for a general audience, our earliest missionaries recognized the need for printed matter that was culturally relevant. We began with pamphlets printed in Cree and other First Nations languages, and we also produced Bible study courses for those whose second language is English. (Some of these easy-to-read English courses are now available online on the TribalTrails.org website.)
In First Nations ministry there are unique issues that must be considered. What does it mean to be both Indigenous and Christian? Are certain cultural practices acceptable for a believer? These are topics that Cree pastor/teacher, Bill Jackson, has tackled in his books which we have had a part in publishing.
Bill has also written about the Christian family, about misunderstood church practices such as baptism, communion, and healing. Many Native believers, both young and older in their faith, have found clarity by reading Bill's books and booklets.
PRESSING ON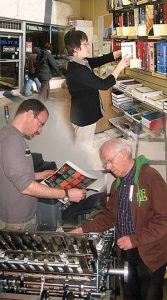 So far we've highlighted a few of the published "products" we're using in ministry. But how are they "produced"?
Right from our Mission's beginnings in the 1940s, NCEM has had its own printshop. Without relying on commercial printers, missionary prayer letters, prayer cards and magazines were produced at Headquarters in Buffalo Narrows, northwest Saskatchewan, then in Meadow Lake. Tracts and teaching materials for First Nations readers could be printed there, as well.
The original letterpress equipment (raised metal type) was eventually replaced by offset printing (which used photo film and smooth metal plates). In the 1990s there were up to four or five full-time staff in our Printshop at NCEM Headquarters in Prince Albert.
Our need for printing is no less in 2018, but these days there are two just full-time Printshop workers, Dennis Siemens and Ralph Dyck.
As manager, Dennis handles office-related tasks and bindery (folding, perforating, stapling, trimming, etc.), while Ralph covers graphic design, getting projects ready to print. We still use our single color offset press on occasion, but now all of our larger printing jobs (Northern Lights, for example) are sent to a commercial printer. The costs are surprisingly reasonable.
It is advances in digital technology that enable our two Printshop men to carry the load. Articles and photos can be sent and received instantly. Our full-color laser printer handles most of our short-run projects. That works well for prayer cards, prayer letters, camp brochures, posters, CD & DVD covers, and more.
Demands for printing always outweigh Dennis's and Ralph's time, though. We need to see someone join them in the Printshop soon, as Dennis nears retirement.
DISTRIBUTING FAR & NEAR
There are two other workers involved full-time in NCEM's publications ministry: Rollie Hodgman, who oversees the Department, along with writing and editing, and Lydia Goede, our Bookstore manager.
Also known as "Mission Distributors," our Bookstore originally began as a source for Native language Bibles and song books, Bible study courses and other items that couldn't be purchased elsewhere. And that's why our Bookstore ministry continues. First Nations people and those working with them rely on it for resources particularly suited to their ministry, and not available anywhere else.
Most customers make their purchases by phone, mail or internet from long distances. In 2012, wanting to be more accessible in the Prince Albert area, we rented downtown retail space. Not everyone who stops in is necessarily looking to buy something – but Lydia Goede sees each visit as potential for building God's kingdom among First Peoples.
Recently, for example, a non-Native man dropped in after seeing our Bookstore ad in a local newspaper, and explained that he was researching a First Peoples-related topic. He was especially wondering how Aboriginal culture and spirituality and Christianity fit together.
"The Lord worked it out great," says Lydia, "because at the very same time he was in the store, a Native Christian couple were browsing." She knew that they could much more adequately answer this man's questions, and they were glad to talk with him. Familiar with some of the books on our shelves, they pointed out to him which ones would further help him.
There are two annual events in Prince Albert that have provided tremendous opportunity to distribute hundreds of pieces of Gospel literature and DVDs. One is "Street Fair," a day when thousands of "PA" residents come downtown to browse the many displays, with the streets blocked to traffic. The "Free" signs on tables in front of our Bookstore bring a steady stream of pedestrians. Tribal Trails DVDs, Christian novels for younger readers, books and Bibles are gladly taken. Our conversations with people, some who we know and some new, highlight our day.
The other event is National Indigenous Peoples Day. Gathering in a city park, people come for the music and entertainment. While traditional Native teachings, some opposed to Scripture, are being told from the stage, we present Jesus as "The" Way through the literature many take. Each year we pray that the organizers of this event will continue to give us permission to set up.
TV COMPETITION?
Literature has proven useful in evangelism and discipling, and we've found that its effectiveness is even increased when used alongside other media.
One of our missionaries tells of meeting a first-time attender at a Native Fellowship. The man told how, at the very same moment he was listening to a radio announcement for the Fellowship event, a flyer advertising it was slid under his apartment door. It got his attention.
NCEM's Tribal Trails ministry uses television broadcasts, video, internet and radio, but would be greatly hindered without the use of literature in our follow-up of viewers who have written or called.
"We often include literature when we write a personal response letter," says Jan Sassmannshausen. "Usually it will be a booklet related to their concern, whether the need is salvation, marriage and family relationships, temptation, or cultural questions."
"We use tracts and booklets in addition to those produced by NCEM," adds Rachel Witherow. "We have found good resources from ministry organizations like Northern Youth Programs, Indian Life, Rising Above, Radio Bible Class, and Focus on the Family."
This fall our Tribal Trails TV ministry is again distributing a full-color wall calendar. "It's something that many people tell us they appreciate," says Tribal Trails Administrator, Brent Wahlstrom, "and each year we've increased our quantity."
This year we'll distribute over 14,000 copies. There are requests for bulk quantities of calendars from prison chaplains, missionaries and others. We pray that the calendar's Scriptures and short testimonies in plain view in many homes and public places will help draw people closer to Christ.
PERSONAL CONNECTIONS
By devoting this many pages of Northern Lights to one particular media ministry, you may think that we're putting too much faith in it. Truthfully, along with its strengths, we acknowledge print media's weaknesses.
It can never replace the face-to-face ministry of a person. Like other mass media, it is "one-way" communication … it can't listen to people's heart-felt needs or questions, or show compassion.
It is never meant to take the place of a missionary, but we want to spread the Gospel every possible way. We believe that literature can still have a role in building God's Kingdom. It definitely has in the past. In the 15th century an amazing work of God began, known as the Protestant Reformation. It is not a coincidence that the printing press had been invented just a few years prior. It enabled ideas to spread widely in a short amount of time.
We do believe that literature is most effective when used with personal connection, and we rely on prayer and the work of the Holy Spirit in hearts.
Visiting folks in their homes remains a primary ministry for our missionaries. One report tells of a First Nations friend's trap line, where the missionary was always welcomed and served tea. Years later, after a number in the family had turned to Christ, they told him that, as kids, they were often hiding under the bed or somewhere else in the cabin and listening while the missionary was talking to their dad about the Lord.
"It was my persistence in visiting," recalled the missionary, "and Christian literature that I gave them that were probably big factors in helping them come to the Lord."