Suppose you needed brain surgery. Who would you like for a doctor? A well meaning general practitioner? Or an equally well meaning brain surgeon? What would you think of someone suggesting that the brain surgeon's extra training was a waste of time and money?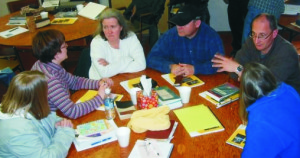 Well, my point is not to insult your intelligence by asking questions with obvious answers, but to illustrate why NCEM is committed to professional training for our staff. We believe in specialized training and re-training because we are called to a work with eternal consequences.
People who've never had effectual exposure to the message of the Bible are still rooted in unbiblical perversions of the truth dating back to the Tower of Babel. If it took just a few generations to pervert the descendants of those who walked off the ark which faithful Noah had built, how much more perversion has come about in the years since then?
These are the belief systems that confront missionaries. Paul likens them to "fortresses ready for destruction" (2 Cor. 10:4). This is a high calling by God and will never be accomplished in our own strength, but His.
Missionaries of all cultural backgrounds face these and other challenges in planting churches.
So, does this sound like we would benefit from specialized training? Is it God-honouring if we commission missionaries who are ill prepared for the task dearest to His heart? Is it fair to the host cultures?
Needless to say, we appreciate your prayers.