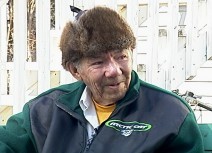 Having been raised on the "Barrengrounds," he never had opportunity to learn to read and write. So even nonbelievers in his community are puzzled, "How does he know so much of the Bible, especially in his own language?"
Missionary Arlyn van Enns say it's because their friend was taught the Bible chronologically.
He understands well God's Story and plan of salvation as revealed throughout all of Scripture from beginning to end, says Arlyn, and can knowledgably share it.