The JESUS Movie
Based on the Book of Luke, the world's most translated film is a vivid and faithful recreation of the life of Christ.
This powerful life-changing video is available in English plus several North American Indigenous languages.
The most economical way for you to see JESUS in your preferred language — and to share Him with others — is our multi-language DVD.
The JESUS Movie
North American Indigenous Languages
(DVD) NAIL20DVD12 — $4.00
The two-hour video on the life of Christ taken from the Gospel of Luke with Native voice actors.
DVD includes the following languages: Blackfoot, Chilcotin, Cree, Denesuline, Innu (Montagnais), Inuktitut, Ojibway, Slavey, Tlicho, English (Native Voice), French, English (original), Spanish, Navajo, Tiwa, and Zuni.
Learning to Fly
(DVD) 3008-01 — $18.63
The Path of Biblical Discipleship. A true to life story that illustrates the challenges of a new believer. Russ discovers that the struggles he hoped Christ had freed him from are still there. He is encouraged by his friend to come to a Bible study, where Rev. Craig Smith teaches from the Scriptures about the importance of biblical discipleship. Using a leather craft, he tells the story of an eagle chick and its cycle of life to illustrate that new believers must have nurture and care.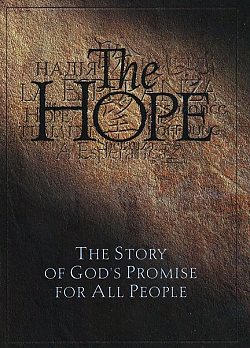 The Hope

(DVD) 9781892271020 — Free
36 Biblical events organized into 12 chapters. Ideal for personal and group studies as well as single viewings of the entire program. Running time: 80 minutes. (Accompanying lesson plans available online.)
*Donations to help with shipping costs are appreciated.
Apache Fire
(DVD) KAF101308 — $9.95
Drama based on a true story, this movie follows the exploits of a young Native man, in and out of jail. Story depicts racial prejudice and violence, but also forgiveness. Teen and adult audiences. Produced in 1970s. 45 min.
Little Eagle
(DVD) KAF101296 — $9.95
Little Eagle and a summer visitor meet Hal, a young Christian. Together they become involved in adventure and intrigue. Illustrates the need and the reward for honesty. Family and younger audiences. 30 min.
Silent Thunder
(DVD) KAF103168 — $9.95
Strong Deer lives in fear of an evil curse. But a Christian man (played by the late Barney Lacendre) hires the boy to work on his mink ranch, and takes him into his home. Movie teaches how Christ can deliver from fear. Family audiences. 30 min.
Rainbow
(DVD) KAF101278 — $9.95
Through her courage and love for her people, the beautiful Iroquois legend of Rainbow becomes a useful tool to clearly illustrate the truth of John 3:16. Animated. 30 min.
Living Legends
(DVD) KAF101288 — $9.95
An on-camera visit to the homes of North American Native Christians. Shows the impact of One who changes lives and gives quality to family relationships. A fast-paced documentary. Family and adult audiences. Produced 1987. 40 min.
Tribal Trails
First Nations Television with a message of hope. Tribal Trails is produced by NCEM for television broadcasting. Programs are 30 min. each.
Free sample DVDs are available. For a list of recent and upcoming programs, visit www.tribaltrails.org and click "Coming Up."
Or for more information, call Tribal Trails (306-764-3388) or e-mail: tribaltrails@ncem.ca
Message Videos
The following teaching videos are by past NCEM General Director, L.W. (Bud) Elford.
Prayer Seminar
(DVD) PS355DVD — $11.75
6 segments (2-1/2 hours).
Introduction To Spiritual Warfare
(DVD) SW354DVD — $10.64
A Bible study introducing the concepts of spiritual warfare, helping the Christian recognize the power available through Christ. (1 hr., 11 min.)
Revelation DVD Set
(DVD) REV345DVD — $25.33
Bible teaching in the book of Revelation available in a 3-DVD set (Lessons 1-28)