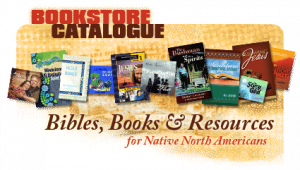 Northern Canada Mission Distributors is a department of Northern Canada Evangelical Mission (NCEM) and exists to further the Gospel of Jesus Christ among Canada's First Peoples. Our catalogue is published to help provide Christian materials for Native people, as well as related ministry tools.
Unless otherwise noted, material is in the English language. Materials in several Native languages are listed in the Native Language section.
If you would like a printed copy of our Catalogue, please call or write us (contact numbers on "How to Order" page) … or you may download a "pdf" copy of our Catalogue by clicking here or below.
Wondering how to order? Hopefully you will find everything you need to know on our How to Order page.
We've organized our products into the categories shown at left. If there's something you can't find, please don't hesitate to Contact Us.

Our Location in Prince Albert, Saskatchewan
In January 2012 our Bookstore moved to our location in downtown Prince Albert … 16 – 13th St. W. Our hours are: 12 noon to 5 pm (Tues. – Fri.) … sorry, we are no longer open Saturdays. Our mailing address remains the same; our phone number is 306-764-4490.
We have other products in stock at our Bookstore which are not included in this catalogue.