Our missionaries often connect with community people while out-and-about, as well as in homes. The Lord also opens doors for evangelism and discipling in "facilities" … hospitals, care homes, schools, jails and more. Here are a few stories of God's work in these places. The first is by Amanda Anderson: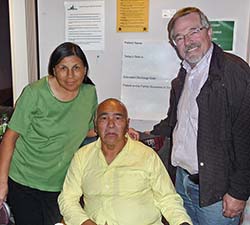 Hospital visitation provides wonderful opportunities to share the Word and pray. Very seldom will a patient say that he/she doesn't want prayer during an illness.
The head nurse at the dialysis unit in our local hospital had previously asked me to visit a particular patient who has been on dialysis for 20 years. Today I went to visit her again. Sometimes she just needs a listening ear as she shares about the troubles in her life. Usually our visit ends with prayer.
After visiting her today, I went down to the second floor to see another patient that I had been asked to visit. She had been waiting for someone to come and read the Bible with her and pray. Having been hospitalized for the past six months has been a very trying time for her, to say the least. I read most of Isaiah 40 to her and prayed with her. Again a very appreciative audience. This happens often.
I have also been invited to the schools here on the Reserve. A staff member asked me to come and teach craft projects, as well as the Bible – especially during the Christmas and Easter seasons. What a privilege and honor to enter these doors of opportunity and share the Good News of Jesus with the students. On the whole, there is a lack of knowledge of the Bible, but the Lord's prayer is still very much a part of the daily routine in these schools.
An avenue of ministry for our Fellowship is to go to the Youth Centre to teach the children Bible stories, play games, share snacks, and craft projects. We go only twice a month, so the children often ask when we will come again.
Another open door for the church is to sing for the elders at the Care Home. It's been fun to go sing as a group and minister in song in this facility.
Dennis & Amanda Anderson serve at The Pas, Manitoba.
…………………………………………
BLESSED TO BE A BLESSING
by Doris Laird
Volunteers from the local church we are part of in Prince Albert go into care homes weekly to lead chapel services. As part of the group, I go up and down the hallways, asking the residents if they would care to join us. While some seem willing to go anywhere their chairs are pushed, several are always ready and eager to attend "church." Others move in haltingly with their walkers and are assisted into the chairs.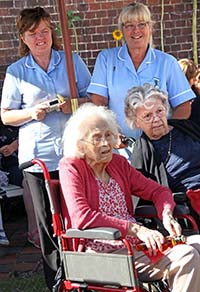 In my introduction to this ministry, I remember watching the residents as they waited, anticipating the beginning of the service. Some were leafing through the little hymn books. Others were slumped awkwardly in their chairs, simply waiting.
The pastor spoke a few preliminary words, then announced the first hymn. We volunteers bustled around, helping residents find the right page. The wheezy electric organ, massaged skillfully awake, led us through the opening lines of "Just As I Am …."
Those who could, sang out. One gentleman, unable to articulate, slapped the time out on his thigh, and warbled out a guttural sound. Others listened, eyes momentarily brightened. All of the songs were enjoyed similarly.
The message that day was about Jesus' love and His willingness to accept us just as we are. He will make us new and give us strength. A message for saint and sinner alike.
In the middle of this morning of volunteer ministry, I realized that it not only brought joy and fellowship to those who came to worship, but I was blessed to be a blessing!
As we were disassembling from chapel time, I stopped to greet one of the gentlemen. I quickly realized that his speaking skills and my comprehension skills were not evenly matched. He was trying very hard to convey something to me. As I faltered, he reached out, pointed to the Tribal Trails logo on my shirt and tried again. I thought I heard, "Are you from there?"
Not wanting to launch into an explanation, I simply replied, "Yes." He then spoke very excitedly for a few phrases.
"You enjoy watching the program?" I hazarded. He said a few other things with a smile on his face. A smile and a handclasp, and we parted ways.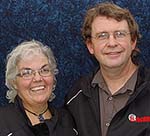 I have no very clear idea of what our conversation contained, but I'm fairly certain that NCEM's Tribal Trails TV program means something positive to that man.
Bob & Doris Laird serve at NCEM Headquarters in Prince Albert. Bob is the Mission's chief financial officer.
………………………………….
WITH GOD NOTHING IS IMPOSSIBLE
During one of my shifts as a part-time Spiritual Care worker in a care home, an elderly gentleman was experiencing heart trouble. He had had heart surgery a couple of weeks earlier and is an Alzheimer's patient. One of my co-workers called me over and asked me to pray for him. I brought a Bible with me and began to read Scripture.
This seemed to calm him down, and I could sense a calmness and peace in his room. I began to explain the Gospel to him, and he was very attentive and seemed to understood what I was explaining to him.
I asked him if he wanted to accept the Lord into his heart. He gladly agreed, and we prayed together as he received Christ. A smile came to his face, and in the following days his health improved.
That was three years ago. I still work in the same facility and see this man there. Even though he has Alzheimer's, I believe the Lord gave him clarity of the Gospel in that moment. Nothing is impossible with God! Praise His name!
Matthew 19:26: "Jesus looked at them and said, 'With man this is impossible, but with God all things are possible.' "
This missionary requested that his name not be published.
……………………………………………………
ON THE INSIDE AND THE OUTSIDE
Ministering in a penitentiary has been an important aspect to increasing relational contacts in various communities, some I have never visited.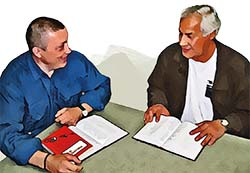 Several years ago we moved to a new area and began seeking meaningful contacts with nearby First Nations people. There was a penitentiary about 15 minutes from our home. The pastor of a local evangelical church was also a teacher in the penitentiary and invited me to come and talk to the First Nations inmates.
I became a volunteer and began assisting the chaplain in this institution. It was very fulfilling to meet with the men, hear their stories, and to minister to them. We had Bible studies once a week and other activities that helped form a community around chaplaincy.
There were inmates there from places where I had previously served, from nearby communities, and from communities up north. Sometimes visits with the men were regular over a longer period of time, sometimes just a few conversations.
When traveling in the North, I made it a priority to visit the families of the incarcerated men I knew. Sometimes I would meet men who had been released, in their communities, or even in airports.
On one ministry trip to a community I'd never visited before, arrangements had been made for us to stay in a certain home. The owners of the house were not there when we arrived, so we just visited with the people who happened to be there. When the owners showed up, I looked at the man, and he looked at me. We knew each other from somewhere, but where?
Upon further reflection we realized that it was through chaplaincy. It was, in a sense, a happy reunion from the past. This young man was glad to announce to me that he was doing well and attending church again. He gave our pilot and myself an insider's tour of his community. I learned more about some of the specific justice needs in northern communities.
It is a privilege to be able to minister in penitentiaries – places where people know that they need help, where they miss their families, and their land. And chaplaincy ministry has helped me have a role and reason for making contact with people while visiting in the North.
God has used chaplaincy in institutions to open doors in communities where we might not otherwise have an opening with people. He has used this ministry to reach out to family members who are suffering because of hard circumstances. I pray that chaplaincy ministry will continue to open doors for His Kingdom and bring the Good News and further ministry in isolated or not-so-isolated areas.
This missionary also requested that his name not be used.
…………………………………..
THANKFUL VISITS
by Carolyn Jespersen
I regularly visit a lady, originally from Fort Simpson, Northwest Territories, who lives in a long-term care facility. She was in a serious car accident over 15 years ago and is now in total care.

She reached out in response to NCEM's Tribal Trails TV program, and I was asked about doing a Bible study with her.
I thank the Lord that someday she can leave the restrictions of her broken down body for a heavenly one. And every time I visit her I find myself thanking God that I can walk and take care of myself.
Carolyn serves as an associate NCEM missionary in Edmonton, Alberta.
……………………………………..
SECOND WIND
by Carl Sonnichsen
Developing a program we call "Second Wind" in and outside the local Correctional Centre has given us increasing opportunities to speak truth into the hearts and lives of both those who are presently incarcerated and those who have been and are being released.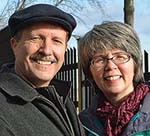 In our monthly workshops, we've touched on topics and issues which the Correctional staff tell us have never been discussed before. With the support of Corrections Canada, we are walking through some very deep wounds with some of the inmates, and connecting the truth of God's Word to their past and present struggles.
We are so encouraged as various offices in Corrections are referring inmates to us as they look forward to their release date.
Carl & Laura Sonnichsen serve in Happy Valley-Goose Bay, Labrador.
Why these stories about our ministries in "facilities"? Because we want to report on the places where God is at work. The stories about prison ministry, particularly, show how ministry "inside" connects with our Mission's church development goals on the "outside." And we publish these stories to remind us to pray that these doors to share the Good News will stay open.