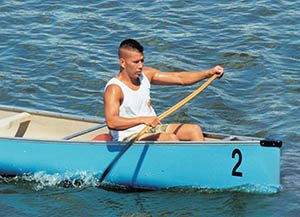 EVERY YEAR Albert & Barb Heal anticipate a special journey. Together they'll fly as Albert pilots one of our NCEM Cessnas from our Airbase in Nipawin, Saskatchewan, about 1600 kms to the northwest.
It's an area they're well familiar with. For a number of years the Heals lived at Ft. Nelson, BC, with outreach to a local Reserve and regular visits to a half-dozen or so Slavey First Nation communities in the Northwest Territories.
Since moving from BC and staying busy in Prince Albert with administrative ministries, the Heals have sought to keep visiting these places at least once each year.
The timing of the trips, the Heals know well, is subject to weather and other factors. Last year their planned outreach for June was postponed because of forest fires. Instead they made a winter trip via ice road.
This fall Albert & Barb's plans were delayed due to a later-than-usual NWT hunting season. As soon as they are able, they will again visit these communities, some of which are accessible only by air or ice road.
In each place they will visit with folks they've known for many years. They're looking forward to group Bible studies and services, shared times of prayer, and meals together.
Albert reports a definite highlight from last year's trip was time spent with a certain friend. For some time they had wondered if this man was a believer, but on that trip it was confirmed. "It was a great encouragement to us!"
As the Heals also connect with new folks, often it involves mention of Tribal Trails, NCEM's TV program. Some will be regular viewers, so Albert & Barb travel with DVDs that will be watched and shared with families and neighbours.
WORTH THE COST
Travel by air, especially, is expensive, but we believe these outreach trips are vital because these are communities with no missionary or pastor. And that's where NCEM's "Minute-Man" comes in!
Like other faith missions, NCEM is not structurally funded by a denomination, church conference, or any organization. Other than God's promises, there are no guarantees – God is the one who supplies!
And He uses people! Besides outreach trips like this, it's our Minute-Man donors who have contributed funds to projects such as: Bible camp facilities, printing & video equipment, and aircraft overhauls.
Minute-Man funds are also used to help existing Native fellowship groups to grow by encouraging and assisting their leaders.
And we don't forget that our missionaries are our Mission's greatest resource! Minute-Man "Calls" have helped pay for our directors' travels as they stop in to visit missionaries on their stations with encouragement and direction.
If you are not already a Minute-Man, we invite you to prayerfully consider this very practical way to help share the Gospel with Canada's First Peoples!l
……………………………….
WHAT IS A MINUTE-MAN?
A Minute-Man is someone who commits* to partner financially as ministry opportunities arise.
Project details come with each Minute-Man Call letter.
Maximum of three Calls per year.
Contributions need only be $5 minimum, or more as God enables.

While some Minute-Man donors are able to give larger amounts, most contributions come from those who know that when many contribute together, much is accomplished!
 *Minute-Man donors give as God directs and enables. There is no legal obligation.
……………………..
HOW TO BECOME A MINUTE-MAN
The simplest way is to call and tell us that you'd like to join!
Phone 306-764-3388
After office hours you can leave a recorded message.
…or mail or email us (see Contact us)
…………………………..
Ways to Give…
Cheque
Credit card (phone or online)
Automated (automated donations can be just 3 times a year or monthly)
Email bank transfers (check with your bank)
Want to know more?
Feel free to call us with your questions about Minute-Man, or how to give.
And check out "Minute-Man" on our Donate page.