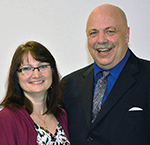 NCEM's Governing Board recently appointed Walter Selke as NCEM's General Director. Walter took on his new role the beginning of March.
The Selkes are not new to NCEM, having served as missionary members from 1988 till 1998.
Walter was born and raised in Clyde, Alberta, and made a commitment to Christ at age 20 while a construction worker in Calgary. His involvement in Bible camp led him to pursue ministry training, and he attended Nipawin Bible College from 1985-88.
That is where he met Cindy. Cindy was born in Regina, SK, and had made a profession of faith at age 15. During their Bible college years both of them gained firsthand experience in ministry with First Nations – Cindy as a summer trainee with our NMTC program, and Walter with Continental Mission in northern Manitoba.
With a common calling into full-time ministry, and a heart to reach First Nations people, they were married in 1989 and together began serving in Regina.
They initially worked with an existing inner city church, involved in children's and youth outreach. Their three children, Mark, Daniel, and Caylea were born during these years.
In 1994 the Selkes launched a new ministry focused on dealing with the wounds of those caught up in abuse and addiction cycles. Healing Hearts Ministry began in a Regina inner-city community centre, and grew to move into its own facility in 2007. A church plant grew out of this ministry.
For the past 19 years the Selkes have served as missionary members of NAIM (North American Indigenous Ministries), giving leadership to Healing Hearts. As their church plant expanded, others joined them in ministry in Regina, as well as in towns and neighbouring First Nations reserves. At present HHM has 40 missionaries serving in the three prairie provinces.
With the Regina church plant under local leadership, Walter & Cindy have primarily been overseeing HHM and providing member care for their missionaries.
Along with his new leadership role in NCEM, Walter will continue as Director of HHM, and they will keep their home in Regina.
Your prayers are appreciated as the Selkes add this NCEM appointment.
CLOSE UP
… a few questions to help you get to know our new General Director, Walter Selke, and his wife, Cindy…
Tell us a bit about your growing up years, your family background.
Walter: I grew up in the village of Clyde, AB, with four siblings. One of the most significant influences in my life was the little CSSM church. I remember counting the days till VBS, and later there was youth group. I felt so loved by the pastors – each one had a huge influence on my life. Even so, I held on to the ways of the world till I was 20 years old.
Cindy: I was born in Regina, SK, but through family circumstances moved around quite a bit. My mom was a primary school teacher, and my dad was the manager of a curling club for over 30 years. I have a younger sister, who also makes her home in Regina, and I have several step-siblings.
What drew you to a personal relationship with Christ?
Walter: I began a career in building houses, and work took me to Calgary. There I stayed with my sister, who was a strong Christian and employed at Berean Bible College. She would invite students over, and I knew it was to convert her lost brother!
It was watching the lives of these students who offered me friendship without any strings attached that God used to bring a deep conviction. My life was nothing like theirs and I knew I needed the Lord. Out for coffee one Sunday evening in 1981, after talking, my friend Elmer suggested that we pray. My Sunday school classes and youth Bible studies came to mind, and all suddenly made sense! God drew me with His love and convicted me with His Spirit.
Cindy: I began to attend a youth group as a teen and heard about Jesus Christ and His plan for me. I wrestled through John 14:6 where Jesus claims: "I am the Way, the Truth and the Life; no one comes to the Father except through me."
One summer night in 1981, I put my trust in Jesus. Following high school I attended Bible college and began to learn about missions. I signed up with NCEM's summer program – Northern Missionary Training Camp – in 1985 and that experience set my course for working with First Nations. But I needed to finish my schooling and returned to Nipawin (SK) Bible College.
And that's where you met?
Walter: During one of my work slow downs I got involved at Camp Chestermere where God started to call me into full-time service. I wanted to become a camp director and, apparently, Bible school was needed. So I packed up and headed to Nipawin Bible College.
I set my heart on studies and ministry, but also noticed a beautiful young lady headed in a similar direction as I was! I have been so blessed to walk along life's journey these years with my best friend, being led by our Lord.
What is one of the most interesting jobs you had prior to becoming a full-time missionary?
Walter: I've already mentioned construction. I really loved framing/building houses and working with my hands.
Cindy: Waitressing at Trucker's Inn in Weyburn, SK. It was my first real job and I liked serving customers and making small talk!
Name one of your favorite books:
Walter: The books by Joel C. Rosenberg. I love how he weaves end times prophecies with fictional characters in an intriguing way.
Cindy: "The Meeting Place" (Song of Acadia) by T. Davis Bunn and Janette Oake. Back in Grade 10 Social Studies I was fascinated by the story of the Acadians and their expulsion. This Christian fiction (series of 4 books) makes history fun to read!
What is your favorite way to relax?
Walter: I like going for long walks with Cindy, or doing woodworking and mechanical projects in my shop.
Cindy: I enjoy playing my guitar, and watching football or curling on TV with my family.
What is one of the hardest things you've done?
Walter: Beginning a brand new ministry, while Cindy and I had three preschool children.
Cindy: Learning to drive a standard transmission car … and stay married to my instructor!
Over the years, what are one or two of your biggest challenges as a missionary?
Walter: Every funeral I have conducted for a young person who died tragically before their time has been hard. Also, spending time away from my family for ministry trips.
Cindy: Finding balance between family time and helping meet the needs of others in ministry. Also, realizing that I may not have the gifts that others in ministry have, but knowing that God calls me to be myself in His Kingdom.
As a couple, what would you love to see accomplished through your life and ministry?
Walter & Cindy: Our greatest joy is having our family loving and serving the Lord. We have a heart for the hurting and wounded, and want to be used of the Lord to bring His healing to them. And we want to see those who are committed to serving in First Nations missions be healthy and thriving in their ministries.