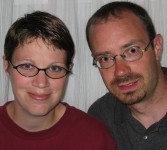 One day Ralph Dyck's entire public high school class got a stern lecture because they had done very poorly on a math quiz. "The teacher asked various students what they wanted to be," remembers Ralph, "and if they thought they would need math at all to do their job. When he asked me, I responded 'missionary' – which I think may have caught him off guard."
Ralph grew up near Glenbush, west-central Saskatchewan, enjoying farm life. There was "cattle to feed, fields to cultivate and seed, a motorcycle to ride … and harvest was always a busy time," recalls Ralph. Sports was also a big thing for him. Underlying everything, though, was his parents' faithfulness in raising him and his sister in the ways of God.
"The prayer I probably prayed the most as a child," he says, "was, 'Lord, show me what You want me to be, and help me want to be that.' " Along with his parents, "Mailbox Club" lessons had a profound spiritual effect. Ralph also mentions a Barry Moore crusade in Battleford as significant. "By the end of the crusade my heart was pounding, and I went forward to rededicate my life to Christ."
Ralph's family attended a Mennonite church, where he was involved in Sunday school and youth group. He was baptized as a teenager and says at some point as a young Christian he realized the importance of telling others about Christ.
Ralph thinks his first exposure to missions, as a child, was saving up coins for the plastic piggy banks given out by the Leprosy Mission. Following high school, it was while a student at Millar College of the Bible that he became very interested in missions and first learned of NCEM. After graduating in 1992, he attended NCEM's summer missions program and was stationed in the Northwest Territories. At the end of the summer he spent a couple weeks in the Mission's Printshop in Prince Albert. It was a good fit and Ralph has been serving there ever since. (He says he can vouch that even missionaries need math – at least ones who work in a Printshop.)
In Prince Albert a friend introduced Ralph to a young lady who had moved to the city. Both enjoying tennis and golf, they became friends. "One day I gathered up enough courage to knock on Brenda's door to see if she wanted to go for a walk," says Ralph. "We did have a nice walk, and since then many more!" Ralph & Brenda have two daughters, aged 12 and 9. Brenda has worked in Christian counselling, as an educational associate, and is now an accounting clerk for a local business.
Ralph is happy producing print and other media to assist NCEM's outreach and church planting ministries. Besides Printshop work, he takes phone calls from Tribal Trails viewers and, through follow-up visits and other openings, connects with First Nations people in Prince Albert.