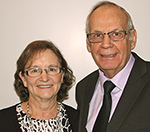 Grant & Nettie Pattimore serve on Carry The Kettle Nakoda First Nation, east of Regina, Saskatchewan.
Here they answer a few questions, helping you get to know our missionaries:
First of all, can you tell us a little bit about your growing up years?
Nettie: I grew up in a large family on a dairy farm near Warman, Saskatchewan. My parents worked very hard to provide for us. We went to church every Sunday, but I was not taught to have a personal relationship with God.
Grant: I was born in southern Manitoba. My parents were Christians and both graduates of Winnipeg Bible Institute. My parents were very involved in our local church, Union Gospel Mission, Winnipeg Bible Institute, and Bible camp. So I had good examples for life and ministry.
Tell what drew you to a relationship with Christ:
Nettie: I started to realize in my late teens that something was missing in my life, but I did not know what it was. I was at my sister's house one day when she asked me if I was a Christian. I thought I was living the best I knew how, so I said, "Yes."
When I got home that night I kept thinking about it and God showed me that I was a sinner, and that I needed a Savior. I knelt and asked God to forgive me. I believed that He died on the cross for my sin, and I asked Jesus to come into my life, and He did!
Grant: I trusted Jesus as my Savior when I was 11 years old. Growing up in a missions minded family and church no doubt greatly influenced me to live for Christ. After high school I graduated from Winnipeg Bible College, in 1964.
Tell us a bit about life before joining NCEM, and then tell how the Lord directed you to serve in missions.
Nettie: My first husband, Herman, and I came to a point where we felt that we should go to Bible school and get some Bible knowledge. So we packed up our four children and headed to Nipawin (SK) Bible College for three years.
It was while we were there at a missions conference that we felt the Lord was leading us into full-time missions. Later the Lord confirmed to us that we should join NCEM to work with First Nations people.
Grant: I was working for the Saskatchewan government, doing construction in the provincial parks. My wife, Elvena, had breast cancer for 29 years, so we had to live close to medical services. But in the summer we would help out at NCEM Bible camps. That is where we met Herman & Nettie Neufeld.
After Elvena  passed away, I applied to NCEM to be a missionary, a dream I had always had. I asked the Mission leaders if  I could stay in Melville, Saskatchewan (where I was living at the time) because I had already been involved with Good Spirit Bible Camp, co-ordinating the Native camp.
About that time I connected with Nettie. (Herman had passed away.) After we were married there was a request for us to serve at Carry The Kettle, and that is where we have ministered the past 14 years.
What does a "day in your life" look like?
Grant & Nettie: Our ministry varies, depending what time of year it is. But we've had many days somewhat like this … Start with prayer time, then preparation for a Bible lesson and game time, make a snack for the Bible Club kids, an early supper, then on our way to Carry The Kettle.
At the Reserve there will be visits, and at the school there will be set-up where we've held kids' club and youth group. Then there's clean up, and the return drive home.
I (Grant) have also had great opportunities to connect with school staff and students working through the provincial Apprenticeship program, encouraging young people to train and seek employment in the trades. Some of these same teens have been part of our youth outreach in past years.
What is one of your biggest challenges as missionaries?
Grant & Nettie: Where we serve there is religious confusion. We've found that the biggest challenge is to have the people see the difference between being a Christian and being a Mormon.
Tell about your hobbies and/or your favorite ways to relax.
Grant & Nettie: We love to go for walks together. Nettie loves to crochet and read. Visiting our extended families is always a joy for us.
What would you love to see accomplished through your life and ministry?
Grant & Nettie: We would love to see the ones who have accepted Jesus as their own personal Savior to walk with Him, and then see them have a burden for others.
When we hear comments like, "If you had not come, we would not have heard about Jesus," or, "Who will teach the Club if you're not here?" our hearts are really touched.
We would love to see the work continue on Carry The Kettle after we can't be here. Actually, even right now we would like for others to come alongside us and help.
Our goal is to finish well the work that God has for us.