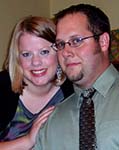 Neither Grant nor Liz talk of their decision to serve with NCEM as easy. There was struggle, discussion and prayer … and God's underlying sovereignty.
They had met at New Brunswick Bible Institute and were married a year after Grant's senior year. At that time Grant says he felt no desire to serve in full-time ministry. "In fact, I actively chose to avoid the possibility," he admits.
He studied multi-media and began a career as a graphic artist. "I loved my job, the people and the work," says Grant. "There was only one thing that would ever convince me to step away from the career path that I'd chosen … and God, in His divine sovereignty, made that a reality."
That one thing was the workplace itself. "After a few years at my job at a media agency in Halifax, it became toxic," says Grant, noting that 20 workers left the 30-person agency in one year. He became depressed and began to hate his job. He applied for work at every possible agency, but nothing materialized.
About that time they went to see friends, Kevin & Marcia Strout, who had just taken the role of managers of NCEM's Arrowhead Native Bible Center in New Brunswick. "Little did we know that weekend trip would be the catalyst the Lord would use to open our eyes to the possibility of serving in full-time missions work!"
But it didn't happen easily. Liz, too, says she had resisted the idea of full-time ministry. Like Grant, she had been raised in a Christian home and had given her life to the Lord at an early age. While Grant had grown up as a pastor's kid, moving often, Liz grew up on a farm in rural Nova Scotia.
As young people, they both had met visiting missionaries, and had been impressed with their stories and burden for spiritually lost people. Among them was David Doherty, a faculty member at NBBI who had previously served among First Nations. There were also NCEM missionaries, Phil & Gracie Welch, who Liz had known since childhood.
"Though impressed, through my teens and early adult life I really hoped that God would not call me to the mission field," says Liz. "Even after our visit with the Strouts I thought, 'No way!' "
But thoughts about it wouldn't leave. They returned home and spent a great deal of time discussing this life changing possibility. After much prayer they decided to apply.
"We both, independently, felt a strong draw to the ministries of Arrowhead with NCEM. We could see ways that the Lord might use our gifts," they say.
"It's such a joy and privilege to serve God here. We are humbled that God would choose us to serve at Arrowhead!"
With their young daughter, Ivy, Grant & Liz give leadership to Arrowhead Native Bible Center, situated on Grand Lake, New Brunswick.