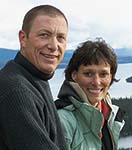 George was born in the Austrian Alps to immigrant parents of German and Hungarian descent. From early childhood he was shaped by these three cultures, and then immersed in a new language and fourth culture when, as a teen, his family moved to Canada in 1975.
Earlier his father had challenged him to read through the New Testament – the reward, a chocolate bar. This prepared George's heart and later, after a "youth-meet," he came to faith in Christ.
Newly married, and having made a personal commitment to serve God "anywhere, anytime, at any cost," in the early 1980s George was in Bible college. It was, in fact, his seriousness about serving the Lord that attracted her to him, says Ulli.
Bud Elford (former NCEM Director) was recruiting at their college, and George had invited him over. For several hours Bud shared about life in the North, about dog sleds and long cold winter nights, about First Nations peoples and their lifestyles. The longer he talked, the more excited George got.
But Ulli says, "Everything inside me screamed, 'This is absolutely not what I signed up for in life!' I envisioned a nice little church, a nice home, everything organized, like I was used to."
Ulli had grown up in Germany in a stable loving Christian home. She knew she had become God's child, but into her teen years Ulli says her faith was still immature. When she was 16, she came to Canada to visit her sister who had married George's brother.
"Fast-forward two years and, at the ripe old age of 18, I had fallen in love and moved to Canada to marry George!" says Ulli. By this time she had a deeper growing faith in Christ, and was enjoying Bible college classes.
"After our visit with Bud, George sensed my apprehension," she says. "Instead of arguing with me, he kept quiet and prayed. One day a chapel speaker shared how Jesus left glory … to come to this sinful, treacherous, impure world just so even I could be rescued and forgiven!
"This pierced my heart. I knew the Holy Spirit was asking me to let go and follow Him anywhere, anytime, under any circumstance, and at any cost, so that others could hear about this amazing Savior.
"I decided to go with my husband and serve as a missionary among a people I did not know."
The Hertwigs first lived and served among the Dene (Slavey) of NWT, then the Nakoda Sioux of Alberta. Now, with four grown children, they are Western-Field Directors, still living close to Eden Valley (AB) Reserve.
"The humility, loyalty and friendship we have experienced working with First Nations believers has become one of the greatest blessings in our lives," say the Hertwigs.
"It is God at work in all of us together, and we are allowed to be a part in God's bringing together the Church, His bride, from every tribe, tongue and nation."