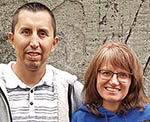 Frank & Lori Ward serve at Kikino, Alberta, in pastoral ministry with the Kikino Bible Church (NEFC). Here they answer a few questions about themselves.
Please tell us a bit about your "growing up" years:
Frank: My growing up years are filled with memories that are good and bad. I grew up in a regular Cree household where the mother stays home and cares for the children, and the father is out working to provide for his family. I had a view of God, but not necessarily a right one. Ours was a non-Christian home where the Bible was not taught, but my mom did have a belief in God.
Lori: I grew up on a farm in southern Saskatchewan with one brother and three sisters. I enjoyed country life with animals, farming and gardening. We learned about God and salvation at home, and were part of a country church.
Tell us about receiving Christ as Saviour:
Frank: It was missionaries in my small northern Alberta community who influenced me toward Christ. Also, a Key-Way-Tin Bible Institute graduate started a Bible club in her home through which the Word of God was planted in my heart and soul. Through this exposure to the truth, and through my sister attending KBI, God was drawing me to Himself. One night, after watching a Billy Graham program on TV I gave my heart to Christ using a small Gideons Bible.
Lori: I always enjoyed Sunday School and hearing Bible stories. I started doing "Mailbox Club" lessons when I was quite young. My sister helped me with the reading and I answered the questions. Through the lessons I understood that I was a sinner and needed a Saviour. I repented and gave my life to the Lord. As I grew older I understood that being a Christian was having a relationship with Christ, having faith in Him and trusting Him in my daily living.
How did becoming a Christian change your life?
Frank: God changed the direction of my life. Instead of choosing fleshly living, I saw the fruitlessness of a worldly life. He gave me strength to stand up for Him when others didn't. He gave me a desire to read and study His Word.
Lori: After I realized that being a Christian is a relationship with Jesus and letting Him be Lord, my faith and trust grew. I learned that He cared, and my confidence in Him and His Word grew. I wanted to obey it, not just read it. He is continually changing me and teaching me more of who He is.
Do you remember your first exposure to missions?
Frank: Besides the missionaries in my home community, I was further exposed to missions and gained an interest while attending KBI.
Lori: At Bible school various missionaries would come and tell about their work. One summer I served at NCEM's Big River Bible Camp. It was a new experience to work with another culture, learning how the First Nations kids lived and thought. It brought a missions awareness right in my own province.
Your first knowledge of NCEM?
Frank: I've already mentioned the missionaries in my own community. Clarence & Ruth Jaycox served with Christian & Missionary Alliance, but were also associated with NCEM.
Lori: I remember a couple from NCEM visiting my Bible school and telling about opportunities for summer and full-time missions in northern Canada.
And your decision to join NCEM?
Frank: While at Bible school I discovered an interest in studying the Word of God and sharing it during our preaching classes. I started praying for God's leading, and He led me to join NCEM.
Lori: Besides Big River Bible Camp, I had heard about NCEM's summer mission program called NMTC. After a couple years of employment, the Lord reminded me about NMTC. I was paired up with Dione Lacendre, a KBI student, and we were sent to a northern Reserve. It was great getting to know the people there, joining in their lives and sharing about the Lord and His Word. A year later I joined NCEM full-time.
Have there been surprises in your ministry?
Frank & Lori: At first I (Frank) thought that people would change right away and many would come to the Lord. I've learned that it takes time to get to know people; it takes time to teach the Word for others to put their trust in God. And we've both taken time to learn about God's healing. We've experienced healing from past experiences, and we desire to help others with their wounds and hurts.
Finally, tell us how you met:
Frank & Lori: We joined NCEM at different times, Frank a year later than Lori. Lori was serving at Big River, and Frank came to work there one summer. We got to know each other there. You asked about surprises? A couple years later Lori was serving as secretary at KBI while Frank was ministering at Kikino, not far away. And then Frank was asked to become a teacher at KBI! We had a wonderful courtship and were married in April 2005.