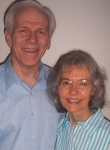 It's sometimes very easy for missionaries to remember their introduction to the field. For Dennis & Beryl Siemens it included a terrific northern Saskatchewan twister, downing trees like toothpicks. One landed on the roof of their Toyota Celica, causing enough damage for an insurance write off.
What had brought them there began much earlier. Besides their Christian homes, both Dennis & Beryl mention their churches having influenced them as youngsters. Dennis remembers sitting one day with his parents in their southern Ontario home with their pastor. "He turned to me, asking about my relationship with Christ and challenging me to read the Gospel of John. He said he would ask me at church sometime about my understanding of it. I avoided being cornered again by him!" admits Dennis.
Later at his Christian high school, Dennis made a commitment to Christ. "I sought to display a changed life, but under my own strength," he realized later. After graduation, Bible college seemed the normal thing to do, and he chose Prairie.
Beryl grew up on a farm in Alberta, enjoying country living, and parents who encouraged her efforts. She gave her heart to Christ at a very early age. As a young person, there were musical endeavors, serving at Bible camp, and attending Bible college.
Both Dennis & Beryl remember missionaries visiting their churches, and sometimes in their homes. Beryl says that at the age of 10 she sensed that God wanted her to be a missionary. "My mental picture of how that would play out was very naive, but I knew that God was calling me."
At Prairie there was continued exposure to missions. Beryl sang in and then played piano for the Ambassador Choir. Dennis also sang in the choir. They got to know each other on tour, and were married three years later.
Settled in Calgary, with Dennis employed by a printing firm, they hadn't forgotten about full-time service. At a Christian camping conference they ran into Tim & Ginny Gradin, friends from Prairie, who were serving at NCEM's Pine Ridge Bible Camp. Invited to consider NCEM, the Siemens took a week of summer training, where they were further challenged to follow God's calling. They were checking out possible service at Pine Ridge the week the twister came through. Their smashed car didn't deter them from applying to the Mission.
When Mission leaders got wind of Dennis's graphic arts experience, he was asked to serve instead in the Mission's Printshop in Prince Albert, where he has been since 1983. Pine Ridge is still part of the picture, though, with the Siemens and their three grown children having regularly volunteered there.
Being involved in missions has been a spiritual journey," concludes Dennis, "understanding what God has done to re-establish a relationship with us through His Son's death and resurrection."