Blaine grew up on a southern Ontario farm, attending church every week with his family. He read "every bit" of his Sunday school papers, and his teachers left a good impression.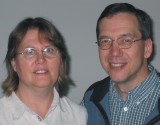 Despite all this, peer pressure soon had Blaine drifting in "other directions," including alcohol. It wasn't until early adulthood that Blaine gave in to the Lord when, after a Billy Graham film, he went forward. "I've never looked back," he says.
Soon he realized that his life goals were "worldly and material." New goals based on eternal values meant a job change, and a decision to go to Bible school.
Rachel Shewchuk grew up on a NE Saskatchewan farm, and through her Christian parents gave her life to Christ early in life. Schoolmates regularly gave her a hard time about her "church" activities, but one particular day in Grade 9 stands out.
"The Lord brought me to a point where I had to make a public stand … I was willing to tell others that Christ had changed my life." It was later that day Rachel realized her need of Bible school training to better defend her faith. As far as missions, she had already met NCEM workers (and others) and Native believers from Cumberland House who often stopped in at their home.
Blaine and Rachel met at Millar College of the Bible and during their years there became more interested in each other. "But we were praying and seeking God's direction as to what He had for us individually," says Rachel. "To my amazement, after graduating, both Blaine and I headed for NMTC (NCEM's summer program)!"
God further led them, individually. At the end of the summer Rachel heard of NCEM's need for a secretary. Filling that position enabled a worker with Cree language ability to return to the field. "I wasn't the best typist," admits Rachel, but outside of the Office she got involved in outreach to Native children and adults.
Meanwhile Blaine was back in Ontario. It seemed like neither missionary field work nor the pastorate were for him. Still seeking to serve the Lord in "some way," when NCEM leaders heard of his electronics training, one of them said, "You're just the person we've been looking for!" The Tribal Trails ministry was just beginning, and Blaine soon found himself busy in missionary television.
Married in 1982, God has since blessed the Witherows with five children, and given them many ministry opportunities to serve Him through Tribal Trails, through their home, and through local Native church work.
"Matthew 6:33 and Psalm 37:4 remind us that God wants first place in our lives," they say. "When we place Him there, He works out the details that will bless our lives."