Welcome To Our Site

We're an interdenominational ministry seeking to fulfill the Great Commission of Jesus Christ among and in partnership with the Aboriginal Peoples of Canada.
Our Vision: by faith to establish strong indigenous multiplying churches.
We hope our web site helps give you a glimpse of who we are and what we do. Please don't hesitate to contact us.
Joel Welch
NCEM Governing Board

FirstStory Ministries is a new church multiplying action plan we're excited about! It's a ministry of Ethnos Canada working in cooperation with NCEM. Click the above link and find out more!
Donate
Help bring the Good News to Canada's First Peoples!
Be an Email Prayer Partner
Be part of God's work among First Peoples through prayer!
Time to Honour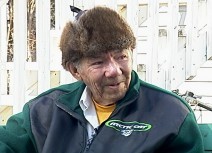 "As our friend's last days of work were completed, no one celebrated all the years of service given," writes missionary Ruth Anna Dana.
"Sadly, honouring the older members happens less, and people are not taking time for listening to them speak wisdom."
In another of our news stories, missionary Arlyn VanEnns honours the memory of his friend George Wanderingspirit (pictured here) and writes: "George and Mary were the first believers baptized in the entire history of their district."
Read these stories and more in our latest Northern Lights magazine online.
also in this issue
Art Acton was not likely to meet anyone he could call his elder, at least not age-wise.

On Tribal Trails in March

What does the Bible say about "judging"? Bill Jackson explains this misunderstood and misused practice in the Church, and how it should relate to helping others find forgiveness available through Christ.
In his growing up years Trevor Flett saw how alcohol brought fear and harm to his family. He also saw how the Gospel could change things! He received Christ as a youngster, but walked away from God as a teen. Married to Sherry in 1992, they didn't follow Christ until after the birth of their third child. They were baptized in 2010, and the Lord helps them grow in their faith.
Becky Kew has worked around Sandy Bay and Amaranth, Manitoba, with First Nations people for many years. She talks about how she trusts the Lord for everything, and how He answered her prayer by providing a building that she uses as a meeting place for children, youth and adults.
David Kanakakeesic was raised in Weagamow, Ontario. His parents became Christians when he was a young child, but David didn't begin his relationship with Christ until he was 21. With a desire to help struggling people in his and neighboring communities, he left home to pursue education in social work and pastoral care. Returning to Weagamow, David tells how he has depended on the Lord to serve his clients well, and sees the importance of Gospel outreach.
Natasha Apetawakeesic grew up in a pastor's home, but as a teen walked away from the Lord. After moving to Weagamow, Ontario, and getting married, she realized that she could not live her life without the Lord. She now serves as a Sunday school teacher, and teaches her children at home about the Lord.
Watch online now, or check our television broadcast schedule.