Welcome To Our Site

We're an interdenominational ministry seeking to fulfill the Great Commission of Jesus Christ among and in partnership with the Aboriginal Peoples of Canada.
Our Vision: by faith to establish strong indigenous multiplying churches.
We hope our web site helps give you a glimpse of who we are and what we do. Please don't hesitate to contact us.
Walter Selke
NCEM General Director
Donate
Help bring the Good News to Canada's First Peoples!
Be an Email Prayer Partner
Be part of God's work among First Peoples through prayer!
PLANTED & ROOTED ...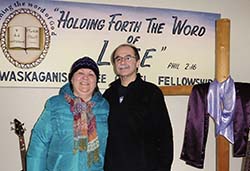 … established Native churches.
As a missionary organization, we regularly report on our evangelistic and church planting efforts.
But what about the Native communities where churches have been established?
… places where the missionaries have moved on and local believers are living out their faith in their families, their work, their worship and fellowship meetings?
In this Northern Lights issue you will meet some of these people and places.
Read these stories and more in our latest Northern Lights magazine online.
also in this issue

On Tribal Trails in November

Mervin Cheechoo shares the Bible story about the young Israelites who refused to bow down to the idol. He then explains how today people bow down to wrong things when they give in to them. He presents seven life issues and discusses how to say no to them.
Gary Parker challenges viewers to reconsider a concept that they may have about Jesus. He says that Jesus was definitely not a white man, but had the physical features of the people who still live in the Middle Eastern region. As a scientist, he explains how there is really only one skin "color" – one human race with different skin "tones."
Through the Christian influence of his father Ethan Small was saved at age seven. He drifted away during his high school years but, prior to the passing of his father, came back to the Lord. Moving away for college, he talks about how the Lord helped him to adapt to city life and to deal with loneliness. Ethan's life verse (Mt. 6:33) reminds viewers of the importance of walking with God in righteousness because His Son is coming back soon. With Scripture, Fred Evans teaches about the Second Coming.
Crystal is the youngest of Faran & Vivian Steinhauer's three children. The Steinhauers believe it's the parents' responsibility to teach their children about Christ and His ways, and that choices come with consequences. Crystal grew up in BC, influenced by missionaries, and that planted in her heart a desire to serve. After high school this "shy, timid, little girl" surprised her parents by going overseas on a short-term mission.
Watch online now, or check our television broadcast schedule.