Welcome To Our Site

We're an interdenominational ministry seeking to fulfill the Great Commission of Jesus Christ among and in partnership with the Aboriginal Peoples of Canada.
Our Vision: by faith to establish strong indigenous multiplying churches.
We hope our web site helps give you a glimpse of who we are and what we do. Please don't hesitate to contact us.
Art Wanuch
NCEM Governing Board

FirstStory Ministries is a new church multiplying action plan we're excited about! It's a ministry of Ethnos Canada working in cooperation with NCEM. Click the above link and find out more!
Donate
Help bring the Good News to Canada's First Peoples!
Prayers of All Kinds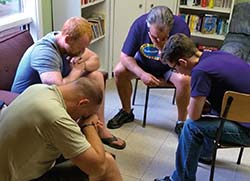 "The fellow couldn't really explain why he was there — it almost seemed that he had been drawn in …"
Perhaps you are expecting an article here about praying "for" missionaries? This one is more about prayer "in" our missionaries' lives and ministries.
You will hear stories about changing prayers, restoring prayers, careful prayers, expecting prayers, privileged prayers, powerful prayers, and certainly not least, worshipful prayers.
Read about it in our latest Northern Lights magazine online.
and read more stories
"What you really need is a personal visit from someone who has walked in your shoes."

On Tribal Trails in April

In her childhood Liz Genaille had a longing heart for God, but it wasn't till later that she was saved. Bill Sinclair teaches how to live a victorious Christian life.
Elaine Holland tells of abuse, confusion, and feeling unloved and unaccepted. Wrong relationships resulted in pregnancy and abortions, but for years she felt unable to talk about it with anyone. The Lord has worked in amazing ways in Elaine's life as she has experienced Christ's love. And, in a sequel program this month, Elaine continues her story.
Randy Jackson tells of his growing up years, and how music has provided opportunities to serve Christ. He and his wife, Evangeline, add a couple great original songs to the program. Also, some major health issues have made Randy realize that every day is a gift from God.
By the time Linda Nepoose was a teenager, she was living on the streets, influenced by the evils around her. Caring people from a mission helped her to start turning her life around.
Watch online now, or check our television broadcast schedule.