Welcome To Our Site

We're an interdenominational ministry seeking to fulfill the Great Commission of Jesus Christ among and in partnership with the Aboriginal Peoples of Canada.
Our Vision: by faith to establish strong indigenous multiplying churches.
We hope our web site helps give you a glimpse of who we are and what we do. Please don't hesitate to contact us.
Art Wanuch
NCEM Governing Board

FirstStory Ministries is a new church multiplying action plan we're excited about! It's a ministry of Ethnos Canada working in cooperation with NCEM. Click the above link and find out more!
Donate
Help bring the Good News to Canada's First Peoples!
Be an Email Prayer Partner
Be part of God's work among First Peoples through prayer!
Like a Child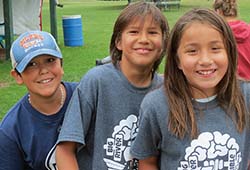 Missionary Arlyn Van Enns remembers two young brothers who listened intently to his late wife Annette's Bible stories at Family Camp.
Sometime later the boys moved away and the Van Ennses knew that there was little if any Christian encouragement where they went.
Would what the brothers experienced at Bible camp make a difference?
Read about it in our latest Northern Lights magazine online.
and read more stories
"What you really need is a personal visit from someone who has walked in your shoes."

On Tribal Trails in October

Recorded at Arnold & Nattie Flett's northern fly-in bush camp, Nattie demonstrates what life is like in their camp, and shares what she is learning from Proverbs 31 about how to be a godly woman.
David Dunn believes that there are two areas of teaching that the Church needs to vigorously renew to hold up the truth in our ever-increasing humanistic society. When the Church fails in these two areas, false teaching, like evolution and anti-Semitism, will penetrate.
Relationships with family and friends are crucial as a child grows up. Ronald Freeman had conflicts with his father and others, and felt unloved, and it brought him to the brink of suicide. But God intervened! Singing was always a part of Ron's life, and he got involved in a touring group.
Watch online now, or check our television broadcast schedule.