Welcome To Our Site

We're an interdenominational ministry seeking to fulfill the Great Commission of Jesus Christ among and in partnership with the Aboriginal Peoples of Canada.
Our Vision: by faith to establish strong indigenous multiplying churches.
We hope our web site helps give you a glimpse of who we are and what we do. Please don't hesitate to contact us.
Art Wanuch
NCEM Governing Board

FirstStory Ministries is a new church multiplying action plan we're excited about! It's a ministry of Ethnos Canada working in cooperation with NCEM. Click the above link and find out more!
Donate
Help bring the Good News to Canada's First Peoples!
Be an Email Prayer Partner
Be part of God's work among First Peoples through prayer!
Like a Child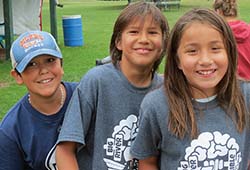 Missionary Arlyn Van Enns remembers two young brothers who listened intently to his late wife Annette's Bible stories at Family Camp.
Sometime later the boys moved away and the Van Ennses knew that there was little if any Christian encouragement where they went.
Would what the brothers experienced at Bible camp make a difference?
Read about it in our latest Northern Lights magazine online.
and read more stories
"What you really need is a personal visit from someone who has walked in your shoes."

On Tribal Trails in September

David Dunn teaches that knowing about creation is crucial because all purpose of life comes from our Creator God.
On a second program David Dunn gives three reasons why people should believe that each of the six days of creation are 24-hour days.
Lorretta Oppenheim tells how, at the age of 12, she chose God's way of salvation through Jesus Christ. Although she had stumbled in the dark times in her life, God has steadied her steps.
Gary Parker explains why Carbon 14 dating points to a young earth and supports the creationist view. It is great to get to know this wonderful God who put all of the marvellous creation together!
Part of being a follower of Jesus Christ is to represent Him to the world. John Greyeyes talks about how to do this as he shares stories from his life, including a powerful story of forgiveness.
Watch online now, or check our television broadcast schedule.