Welcome To Our Site

We're an interdenominational ministry seeking to fulfill the Great Commission of Jesus Christ among and in partnership with the Aboriginal Peoples of Canada.
Our Vision: by faith to establish strong indigenous multiplying churches.
We hope our web site helps give you a glimpse of who we are and what we do. Please don't hesitate to contact us.
Art Wanuch
NCEM Governing Board

FirstStory Ministries is a new church multiplying action plan we're excited about! It's a ministry of Ethnos Canada working in cooperation with NCEM. Click the above link and find out more!
Donate
Help bring the Good News to Canada's First Peoples!
Be an Email Prayer Partner
Be part of God's work among First Peoples through prayer!
God Still Uses Ink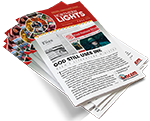 "I read the 'Flies' story … in the July 2018 FND newspaper and was moved by the truth of its meaning." The handwritten letter came from a single father, telling of his spiritual quest. The return address was an Alberta correctional facility.
For several years our NCEM Publications Department has been placing a paid ad each month in "FND," an independent secular paper. Subscribers are finding Gospel stories where they may not have expected it!
Read about it in our latest Northern Lights magazine online.
and read more stories

On Tribal Trails in November

Ronald Freeman was raised in a family that loved music. His love for the Lord and for music led him to travel with a church singing group, and later with the Lumber River Quartet.
Bill Jackson explains from the Bible who angels are and about their ministry. He talks about the differences between men and angels, and also between God and angels.
Caleb & Greta Sakachekapo share their testimonies, telling how their relationship with Christ has helped them through health issues and losing their son. They encourage everyone as they declare, "No turning back."
Venus Cote talks about her life and work as a missionary in New Brunswick. She explains how, through life's challenges, she experiences God's presence.
Watch online now, or check our television broadcast schedule.