Welcome To Our Site

We're an interdenominational ministry seeking to fulfill the Great Commission of Jesus Christ among and in partnership with the Aboriginal Peoples of Canada.
Our Vision: by faith to establish strong indigenous multiplying churches.
We hope our web site helps give you a glimpse of who we are and what we do. Please don't hesitate to contact us.
Art Wanuch
NCEM Governing Board

FirstStory Ministries is a new church multiplying action plan we're excited about! It's a ministry of Ethnos Canada working in cooperation with NCEM. Click the above link and find out more!
Donate
Help bring the Good News to Canada's First Peoples!
Prayers of All Kinds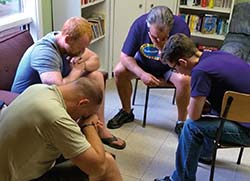 "The fellow couldn't really explain why he was there — it almost seemed that he had been drawn in …"
Perhaps you are expecting an article here about praying "for" missionaries? This one is more about prayer "in" our missionaries' lives and ministries.
You will hear stories about changing prayers, restoring prayers, careful prayers, expecting prayers, privileged prayers, powerful prayers, and certainly not least, worshipful prayers.
Read about it in our latest Northern Lights magazine online.
and read more stories
"What you really need is a personal visit from someone who has walked in your shoes."

On Tribal Trails in June

Craig & LaDonna Smith tell of an accident that changed their lives and ministry. They recall the way God worked in them to be grateful, and not bitter toward Him through this tragedy.
After Arnold & Nattie Flett got saved they began witnessing in their northern community of how Christ changed their lives. Arnold explains and illustrates Jesus's words, "I will make you fishers of men."
David Dunn, Howard Jolly and Joe Jolly share about their relationships with their children, and how important it is for a father to spend time with their children and to teach them about God.
We take you to Grand Rapids, Manitoba, where Lawrence & Diane Cook share the simple Gospel message of salvation and hope. They say that their Christian growth depends on the regular study of God's Word, and applying it to their lives.
As a child Terry Bose's biggest challenge was the racism she faced at school. Her husband Bill came from a broken home. Marrying Terry motivated him to change, and they were introduced to Christ by Terry's relatives.
Watch online now, or check our television broadcast schedule.