Welcome To Our Site

We're an interdenominational ministry seeking to fulfill the Great Commission of Jesus Christ among and in partnership with the Aboriginal Peoples of Canada.
Our Vision: by faith to establish strong indigenous multiplying churches.
We hope our web site helps give you a glimpse of who we are and what we do. Please don't hesitate to contact us.
Joel Welch
NCEM Governing Board

FirstStory Ministries is a new church multiplying action plan we're excited about! It's a ministry of Ethnos Canada working in cooperation with NCEM. Click the above link and find out more!
Donate
Help bring the Good News to Canada's First Peoples!
Be an Email Prayer Partner
Be part of God's work among First Peoples through prayer!
God Still Uses Ink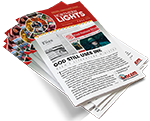 "I read the 'Flies' story … in the July 2018 FND newspaper and was moved by the truth of its meaning." The handwritten letter came from a single father, telling of his spiritual quest. The return address was an Alberta correctional facility.
For several years our NCEM Publications Department has been placing a paid ad each month in "FND," an independent secular paper. Subscribers are finding Gospel stories where they may not have expected it!
Read about it in our latest Northern Lights magazine online.
and read more stories

On Tribal Trails in Decembrrrr

Venus Cote talks about her challenges with cancer and how she has dealt with it as a Christian, and how she wants to be a help to others in similar situations.
Mitch Richard's memories of Christmas as a child are not positive. Besides growing up in a dysfunctional home, at school he was shamed for being Aboriginal. At age 14, after his mother died, he remembers his cousin sharing the Gospel with him. Years later, after time in prison, he took his cousin's advice to receive Christ.
David Dunn explains that, in other religions, people try to reach God. In Christianity, God reaches down to mankind. He also tells us that Jesus was a Jew, not a white man, and that redemption is for "all" peoples! This breaks down barriers between cultures and ethnic groups. Ron Freeman and Glenn West tell how, with this truth, they overcame differences. They now sing together as brothers in Christ.
Mostly through music, this program takes a look at Jesus's birth – how the real message of Christmas is about Jesus coming to earth to live among us.
Bill Jackson says that, compared with eternity, our time on earth is very short. How do we spend our time? Do we live only thinking about the "here and now"? Or do we stop and consider what happens after this life on earth ends? Bill Jackson shares how important it is to make sure we are ready to meet God in eternity.
Watch online now, or check our television broadcast schedule.