Welcome To Our Site

We're an interdenominational ministry seeking to fulfill the Great Commission of Jesus Christ among and in partnership with the Aboriginal Peoples of Canada.
Our Vision: by faith to establish strong indigenous multiplying churches.
We hope our web site helps give you a glimpse of who we are and what we do. Please don't hesitate to contact us.
Joel Welch
NCEM Governing Board
Donate
Help bring the Good News to Canada's First Peoples!
Be an Email Prayer Partner
Be part of God's work among First Peoples through prayer!
PLANTED & ROOTED ...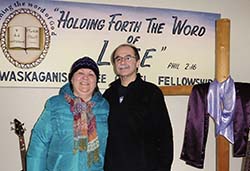 … established Native churches.
As a missionary organization, we regularly report on our evangelistic and church planting efforts.
But what about the Native communities where churches have been established?
… places where the missionaries have moved on and local believers are living out their faith in their families, their work, their worship and fellowship meetings?
In this Northern Lights issue you will meet some of these people and places.
Read these stories and more in our latest Northern Lights magazine online.
also in this issue

On Tribal Trails in September

Here are our guests for September …
Bill Sinclair teaches about true peace from Matthew 7. Robyn Keepness tells about how she suffered because of her wrong choices, but now she trusts God's Word for direction in her life. She believes God will fulfill her childhood dream as she follows Him.
As a Christian, Vivian Jack wanted to please God. Later, though, through wrong relationships, she walked away from Him. When her sister's life changed through Christ, it encouraged her to return to the Lord. Eddie Lindsey uses examples from Moses' life to answer the question: "After we have failed, will God use us again?"
Huron Claus shares his life story and tells how he and his father – in fact, his whole family – have served God as evangelists, spreading the Gospel of Jesus Christ. Huron challenges and encourages viewers to not be consumed with our "own worlds," but to ask God how He can use us in other people's lives.
Hilda Wemigwans tells of being a rape victim, and how this traumatic experience affected her. Learning that she was pregnant, she planned to give her baby up for adoption. After wrestling with feelings of hurt and hate, she forgave her offender. When her son was born she decided to keep him and raise him with God's help. Hilda tells how, years later, she met with her offender, giving her son the opportunity to get to know his father.
Virginia Bruneau was born and raised in Cold Lake, Alberta, by parents who had spent their childhoods in residential school. Along with her eight siblings, Virginia was raised in church, where she learned who Jesus was. In 1983 she and some of her siblings learned the truth of the coming Rapture of the Church, and she received Christ as her Saviour in a downtown coffee house. With various Scriptures, Bill Jackson teaches about Christ's Second Coming.
Watch online now, or check our television broadcast schedule.