Welcome To Our Site

We're an interdenominational ministry seeking to fulfill the Great Commission of Jesus Christ among and in partnership with the Aboriginal Peoples of Canada.
Our Vision: by faith to establish strong indigenous multiplying churches.
We hope our web site helps give you a glimpse of who we are and what we do. Please don't hesitate to contact us.
Walter Selke
NCEM General Director
Donate
Help bring the Good News to Canada's First Peoples!
Be an Email Prayer Partner
Be part of God's work among First Peoples through prayer!
PLANTED & ROOTED ...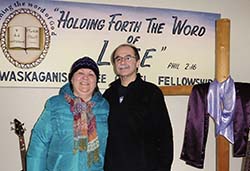 … established Native churches.
As a missionary organization, we regularly report on our evangelistic and church planting efforts.
But what about the Native communities where churches have been established?
… places where the missionaries have moved on and local believers are living out their faith in their families, their work, their worship and fellowship meetings?
In this Northern Lights issue you will meet some of these people and places.
Read these stories and more in our latest Northern Lights magazine online.
also in this issue

On Tribal Trails in January

Joshua Dueck shares his life story and explains how God's grace was on him even when he didn't know it. He tells how his faith has grown since becoming a believer.
Bill Sinclair was raised with a Christian grandmother. When he was 15 his mother died and Bill left home to work in BC. Even as he was rounding up guys for drinking parties, God was working in his heart and drew him to church where a missionary led him to the Lord in 1981. Though he returned to drinking for awhile a few years later, the Holy Spirit convicted him and he rededicated his life to the Lord, and later attended Bible school.
Bill & Lena Sinclair continue with their life stories. Lena is Navajo First Nation from New Mexico. She came to Christ as a young teen, but things didn't go well for her during her high school years. Alcohol became her crutch, but one day she quit after being reminded of God's purpose for her. She met Bill at Bible college. After getting married, they began a traveling ministry, and now serve the Lord in Edmonton.
Sarah Green shares her story of living on the streets. It was during her second time at a Teen Challenge Christian addictions treatment centre that she gave Christ control of her life. Also on this program, Fred Evans talks about how Jesus gave up his life so that we could be free from the "pressures" of sin.
Watch online now, or check our television broadcast schedule.