Welcome To Our Site

We're an interdenominational ministry seeking to fulfill the Great Commission of Jesus Christ among and in partnership with the Aboriginal Peoples of Canada.
Our Vision: by faith to establish strong indigenous multiplying churches.
We hope our web site helps give you a glimpse of who we are and what we do. Please don't hesitate to contact us.
Art Wanuch
NCEM Governing Board

FirstStory Ministries is a new church multiplying action plan we're excited about! It's a ministry of Ethnos Canada working in cooperation with NCEM. Click the above link and find out more!
Donate
Help bring the Good News to Canada's First Peoples!
Like a Child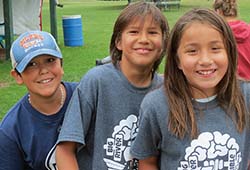 Missionary Arlyn Van Enns remembers two young brothers who listened intently to his late wife Annette's Bible stories at Family Camp.
Sometime later the boys moved away and the Van Ennses knew that there was little if any Christian encouragement where they went.
Would what the brothers experienced at Bible camp make a difference?
Read about it in our latest Northern Lights magazine online.
and read more stories
"What you really need is a personal visit from someone who has walked in your shoes."

On Tribal Trails in August

Peter & Charlene Constant tell of leaving good jobs to attend Bible school and consider full-time ministry. Pray for viewers who are holding onto temporal security instead of following Christ's plan for them.
Howard Jolly shares from Scripture how sin has distorted people's identity and brought suffering into the world. As a child, Sunni Hunt was abused by her loved ones. She shares how she has found freedom and healing by forgiving her offenders.
Bill Jackson shows how the "Prodigal son" (Luke 15) turned his life around and returned to his father. In much the same way, we can come back to God through reconciliation and forgiveness.
David Dunn shares about the importance of giving thanks to God, and how not giving thanks can lead us down a slippery slope. We join Kevin & Kim Elias as they give thanks for what God did in the life of their baby Sammy. The Singing Hills praise God through music.
Glen Nisyok talks about how his carefree life and drinking brought their marriage to near destruction. Andrea shares how she tried to live a lie, so that her family would not know their marriage was nearly over. God intervened and their marriage was restored!
Watch online now, or check our television broadcast schedule.